Hello Fall! Our regular hours are Wednesday – Sunday 10 – 5. We are closed on Thanksgiving Day. We are filling restoration orders, seeding like mad and getting ready for the Fall!
The on-line shopping tool can be used to place holds: orders can be paid by invoice, by calling us, or in person.  Unpaid orders will be held only for one week unless other arrangements are made.
About our nursery
We grow and sell California native plants for:
home gardeners
landscapers
habitat restoration
garden and landscape design
and more!
Let us help you find the perfect plants for your project.
Event of the Month: September is halfway over, and we will be participating in the Bringing Back the Natives tour on the 23rd. Pruning talk at 2:00!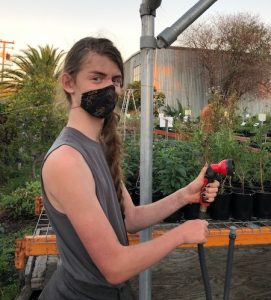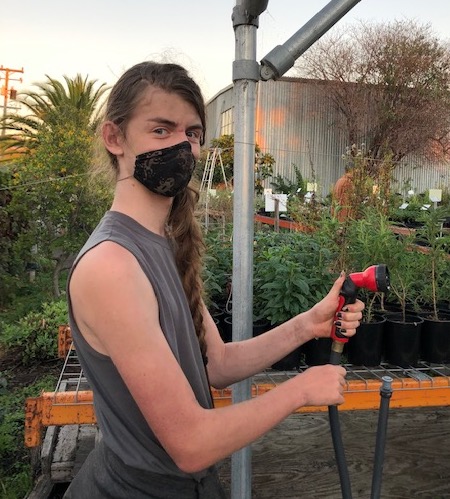 We will be participating in the upcoming Bringing Back the Natives tour to help promote the use of California plants in the Bay Area…join us for a pruning talk by Birch Starr-Reid (shown above!) at 2:00pm.
The big idea of the tour for the last couple of years has been to make sure everyone has a 'Keystone species' of plant in their garden, as described by author Doug Tallamy, to support a range of wildlife. For example: adding a Ceanothus shrub to your yard provides Winter/Spring flowers to support Bumblebees, hosts many kinds of caterpillars to support moths and butterflies, then the birds can have a go at the caterpillars and be fed and happy, all while using little to no water in the garden!
In addition to providing a perch and food for our birds, providing a wide range of flowering plants can combat the effects of climate change/plant timing; if we provide a wide range of flowers for as long as possible, we can support the short lives (2-8 weeks!) of our local bee species. That and controlling weeds/competitors can help insure a good menu of flowering plants for pollinators. See the work of biologist Rachel L. Olliff-Yang and the '30 by 30′ project.
We are committed to bringing you the best quality plants for your garden or restoration project! We also can offer in-store consults if you bring in some photos. See you soon!