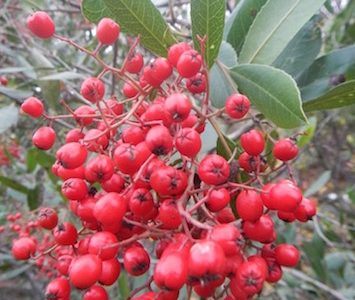 Our Western Winterberry aka Toyon
While visiting folks on the east coast this Thanksgiving I happily took in the somber browns and grays of that frozen landscape. Vermillion was far from my mind while hiking in the open fields and coastal forest. And yet there in glorious contrast to all else, I stumbled across a leafless shrub completely festooned in crazy bright red berries. A holly relative native to the eastern part of our continent shows off in the reddest red and it seems the birds take the cue. Cold? need some energy?…the berry bar is open!  

Heading home to the western edge of North America I realize that we have a "Winterberry"  too. We call it Toyon, Christmasberry or Hollywood and it is one of our signature locally native shrubs. Unlike the eastern Winterberry, Toyon is a broad-leafed evergreen, native to the coastal range and the Sierra Nevada foothills. In the garden it is very drought tolerant and useful/dependable in many situations. Toyon can be featured prominently or used as a screen or loose hedge. Tolerant of a range of soils from clay to serpentine it can reach 10-18 in height. A member of the rose family it blooms on the late side in summer with large clusters of tiny five petaled cream white flowers creating an impressive display found irresistible by bees. On toward the end of the year when the days are short those flower clusters mature to attractive fire engine red berries. It is a perfect bird-food substitute for invasive exotics such as holly. Greens with berry clusters are a great local addition to holiday decorations.