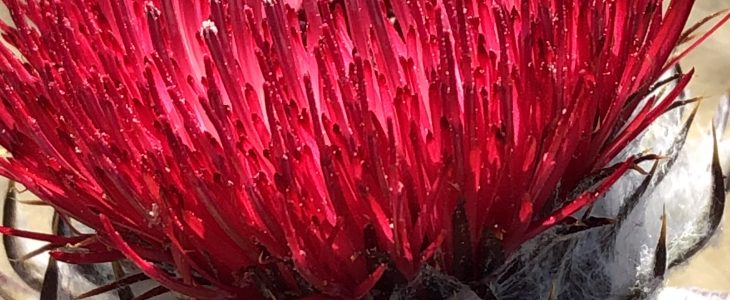 According to local restorationist Glen Schnieder  "the native cobweb thistle (Cirsium occidentale) is one of the great beauties of the drying time." I'd have to agree. I took a side trip out to his project(s) at Skyline Gardens in mid-June to sit with the glorious magenta blooms in the afternoon light. As I perched on the ground with several flowering cobweb thistles around me at nose height admiring the amazing transformation Glen and his gang of volunteers have wrought in that area, I got to see close up and seemingly very personal the local hummingbird stop by to sip nectar. Being from the composite or aster family the flower that we so admire is, on closer inspection, composed of many florets. In the case of the thistle there are no ray flowers (what we think as the "petal" of a daisy for example). The entire thistle flower is composed of many disk flowers (in the daisy these would be the center composed of tiny yellow florets). In our lovely native cobweb thistle, the disk florets are just the perfect tubular shape and red color for the hummers. That's not to say that other pollinators don't visit them. One customer recently proudly described the way native bumblebees nap face down in her thistle blooms. Later in the season once the flower has gone to seed if you leave the dried stem in place, you should have seed eating finches stop by for a snack.
The non-native thistles tend to be invasive in disturbed areas indicating poor land management. If allowed to dominate, the invasive thistle will form a monoculture choking out other more diverse bunch grasses, perennials and annual wildflowers. The Skyline restoration folks have been diligently removing the non-native thistles as well as other problem species with impressive results. So if you are feeling like getting your paws grubby, or are in need of inspiration or an excellent view of the bay and Mt. Diablo, Glen works with volunteers twice a week. This month he is going out to Skyline Gardens Sunday mornings from 9:30 to 1 and Wednesday afternoon/evenings from 4 pm to sunset. Let him know if you can help outglennyfrank@gmail.com. By his report, "the sticky-monkey and farewell to spring are  just glorious, as are the big, red cobweb thistles.  Soap root flowers, literally by the thousands, open fresh each day as dusk approaches." 
At Oaktown Native Plant Nursery we have loads of one year cobweb thistles available for $1.80 each. They were grown from garden collected seed and since they are biennials you could get a bunch of them in in a dry, well drained spot for a show next year.