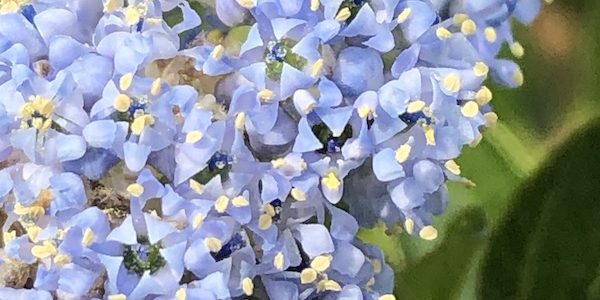 Blue blossom (Ceanothus thyrsiflorus var. thyrsiflorus) is emblematic of our coastal California gardens and post fire successional plant communities. This magnificent large-scale, fast growing shrub also known as California lilac is hard to miss. The bloom is happening right now. On a walk through local gardens or in an open space area burned within the last 10 years you will be treated to masses of fragrant light lavender to sky blue flowers. Shiny emerald green leaves with a densely branched growth habit create a very satisfying evergreen presence. In the garden, this plant must have good drainage and little to no summer water to have a long life.
Botanists refer to our part of the world as the California Floristic Province (CFP). Produced by a "complex 3-d mosaic of climatic, topographic and geologic diversity" (Fross and Wilken 2006). CFP is known internationally as a Biodiversity Hot Spot. It is 1 of 33 Biodiversity hot spots on the entire planet. The genus Ceanothus is a good example of our botanical diversity. Of the 50 Ceanothus species occurring in North America, 41 of them are found in the CFP. Plants from this genus grow in a broad spectrum of habitats from the bluffs and beaches of the Pacific coast to exposed inland ridges, from dense chaparral thickets to sparse desert woodlands. "This diversity of habitats has resulted in a wide range of morphological and ecological adaptations from which a startling assortment of horticultural variety has been selected." (Fross and Wilken 2006). Here in the East Bay blue blossom is one of four locally native Ceanothus species.
Although we mainly think of blue blossom as a large stature shrub, it can take on a broad range of forms. Growing in protected areas this plant might reach up to 20 feet high and more than that wide. While plants on exposed ocean bluffs tend to take on a dense low hedge-like form. In the open spaces of Alameda and Contra Costa Counties blue blossom will be found in its larger up-right form woven into scrub and chaparral plant communities. In our area, these plants are often seen at the end of their lives as succession edges them out in favor of oak woodlands and other types of forest canopy. Wild fire re-generates plant communities but on the urban-wild land interface fire must be suppressed. Because of this, the plant is not as common in the area as one would think. After a fire blue blossom re-sprouts both from buried root crowns and from a long lived seed bank, thriving in the early stages of post-fire succession. Individual plants may live many decades if they are not shaded out by taller canopy trees. Nitrogen fixing roots play a part in supporting other associated plants. Ceanothus are important to native bees, honey bees and other pollinators. Watch a cluster of flowers (inflorescence) and you will see a succession of bees quickly climbing over the inflorescence to gather pollen. Inland in the Sierra foothills Ceanothus is an important nectar source for butterflies and is larval host to many local foothill butterflies.
If you spend time looking at the various Ceanothus in either wild or garden settings you will likely agree with me that identification can be difficult, each species being recognized by a wide range of variability in traits. If it's any consolation, even botanists who have made Ceanothus their life's work acknowledge the difficulty. To make matters even more complicated, Ceanothus hybridize easily. Some of the observable factors in the abundance of crosses include the fact that several distinct species often occur nearby, and that the flowers of all types of Ceanothus are much visited by a large number of different types of wide ranging pollinators. Many of the known hybrids involve wide ranging species such as C. cuneatus and C. thyrsiflorus. Of the hundreds of cultivars and named hybrids, right now in the nursery we have a few related to our Plant Of The Month (see below for a list)*. The 4 blue blossom horticultural relatives at Oaktown are just one tiny branch tip on the tree of life. For more in depth reading on the subject. I recommend Ceanothus by David Fross and Dieter Wilken 2006.
*Blue blossom relatives
Two cultivated varieties (cultivars):
C. thyrsiflorus var. thyrisflorus 'Snow Flurry' – white flowered selection
C. thyrsiflorus var. thyrisflorus 'Oregon Mist'
Two well known C. thyrsiflorus hybrid cultivars:
C. arboreus x C. thyrsiflorus var. griseus 'Ray Hartman'
Ceanothus papillosus x C. thyrsiflorus var. griseus 'Joyce Coulter'
See our on-line inventory for additional Ceanothus options!
Kristen Hopper
Oaktown Native Plant Nursery
March 5, 2020