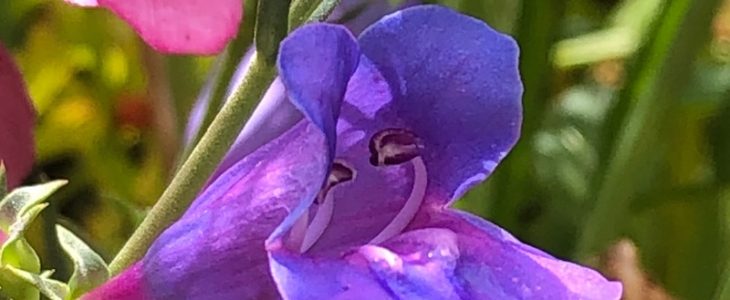 Foothill penstemon Penstemon heterophyllus is an eye catching many branched sub-shrub with flowers "in all nuances of blue." So says Lester Rowntree famed for her 1930s solo plant exploration trips into the wilds of California. Rowntree is beloved by many for her writing from a gardener's perspective about the plants she observed by driving up and down the state in her custom outfitted jalopy. Her objective during these wanderings was to understand California native plants in their habitat for the sake of horticulture and conservation.
In the wild, foothill penstemon occurs only in California. Found in hot rocky places in grasslands, chaparral and forest openings in the coastal mountain ranges and the northern Sierra Nevada foothills this alluring plant produces multiple flower spikes typically reaching 18"-24" in height. On some, the buds are a pale yellow. At flowering you may then be pleasantly surprised as you are treated to multiple one inch long, wide mouthed tubular flowers in an astonishing range of colors from blue to purple-pink. In her Hardy Californians chapter on penstemons Rowntree points out that "various intensities of sunlight have a considerable effect on the appearance of the flower coloring….However even in an unshifting light, you find blue and lavender pink growing on the same plant and a bush of almost magenta flowers will grow next to one of gentian blue." Bloom begins in April and can be extended through June with some deadheading. Foothill penstemon has important habitat value, providing both pollen and nectar for native bees. If conditions are well drained with plenty of direct light, it can be long-lived. More often, it is not especially long-lived in the garden. Glenn Keator consoles us in his Complete Garden Guide to the Native Perennials of California – this beauty's frequently short life is mitigated by ease of propagation. On the advise of Rowntree, "If you want your California penstemon species to behave prettily, put them where you can keep them down to a lean diet. Find a rocky slope in the sun where there is no hard subsoil underneath."
In these Pandemic Days during the long hours spent sheltering indoors, our travels may be mainly of the armchair kind. We dream of the time when we can get out again and admire our incredible native flora in favorite wild places. If you have a copy of Hardy Californians on your shelf I recommend re-reading the first chapter entitled 'Fool's Gold'. Rowntree describes her modes of travel and observation, and recounts a few amusing adventures. But mostly she reminds us that there is much to look forward to in the days to come. "These days in the open bring an increased sensory development: a change in the wind makes a subconscious impression; there is instant distinction between the slow meditative prowl of the wood-tick on your skin and the animated gait of an ant; a rattler's warning buzz causes instinctive and immediate action; you learn to know the songs and ways of birds; and at night stretched upon the beneficent earth….. the treads of larger wild animals or the excited scurries of rodents become increasingly easy to classify." In the meantime, I guess we could all work to bring a little of this feeling to our gardens.
Right now at the nursery we have a lovely little crop of wild type foothill penstemon from a road side population on a field edge in eastern Mendocino County. Try out our new on-line shopping tool and we'll pull and stage your order for curb-side pickup. Or if you prefer to come look for yourself, make an appointment, put on your mask and pay us a visit Thursday – Saturday.